Seafood Restaurant in St Thomas, VI
For over 30 years, Hook Line & Sinker has been the premier seafood restaurant in St Thomas, VI! We're well-known for our extensive menu of seafood, steaks and more, as well as drink specials and our fun-loving atmosphere.
Stop by our fish restaurant today for fresh fish, locally distilled spirits and an all-around delightful time!
---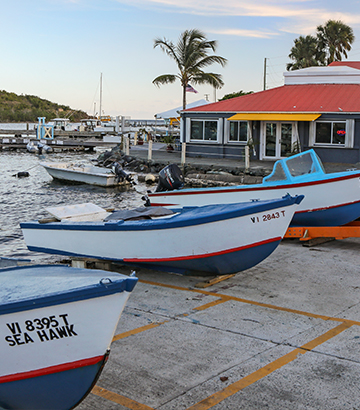 Pull Up a Chair and Enjoy a Freshly-Cooked Meal
Hook Line & Sinker is a casual eatery that enjoys providing our guests with a light-hearted, Caribbean atmosphere on the U.S. Virgin Islands! Pull up a chair for breakfast, lunch and dinner and we promise you'll find a menu that's full of delicious options, including seafood, steaks and all types of authentic Caribbean food, along with salads, fresh soups, burgers and more.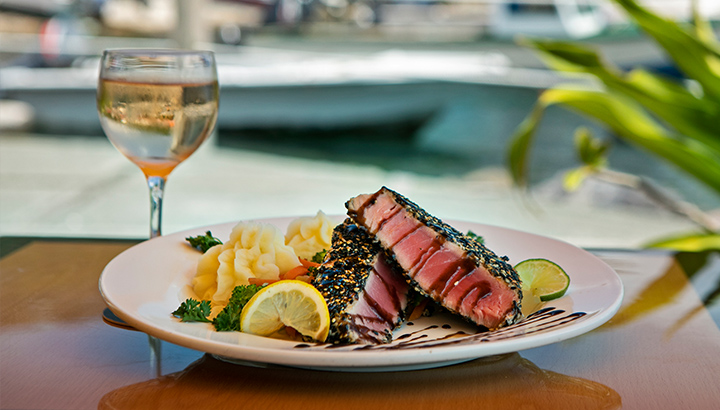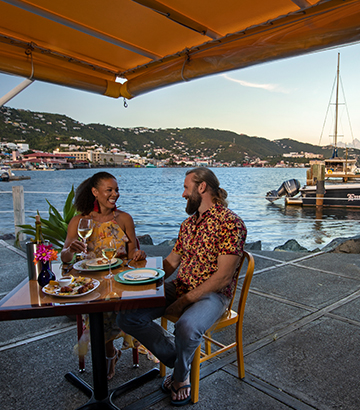 Go-To Steak Restaurant
Some of our signature dishes include local fish and fungi, coconut curry lobster, creole snapper, almond crusted yellowtail, bacon-wrapped filet mignon, New York strip steaks, king cut prime rib and vegetarian paella. Plus, we're the go-to breakfast restaurant in St. Thomas on Sundays for a huge Sunday brunch spread, as well as on Fridays for a full Thanksgiving turkey and all of the fixin's!
Local Cuisine
What makes a destination seafood restaurant and steak restaurant in St Thomas? Our dedication to local cuisine and craft! When you're done digging in to our expansive menu of delicious options, enjoy a fresh-made dessert. Or, grab your favorite drink, imbued with rum, gin or vodka made by a local distiller. We can even tailor our menu options to support our local customers with allergies, making them gluten-free wherever possible. We invite you to enjoy our full menu, or just stop in for happy hour to enjoy specials like $8 buckets of beers, $2 well drinks or $4 call drinks. Whatever brings you to Hook Line & Sinker, we hope you'll be back!
We offer a unique seaside dining experience as a lobster restaurant. In fact, our fresh fish are caught just 10 feet from our restaurant! You can't get any fresher than that!
Our fish restaurant's cooks and chefs have all been with us for more than 25 years. Their dedication to their draft results in some of the best food on the Islands.
We aim to keep the atmosphere lighthearted all the time. Turn to us for television sporting events, live music and more.
We offer dine-in, carry-out and delivery options. Delivery for lunch or dinner can be ordered through St. Thomas Direct (3rd party).
Browse Our Menu Today
In the mood for fresh fish? Looking for a little Caribbean Cuisine? Hook Line & Sinker is the place to dine in Charlotte Amalie, VI for all this and more! Contact us or visit our lobster restaurant today to ask about dining and drink specials.